Buffets & Cakes
Buffets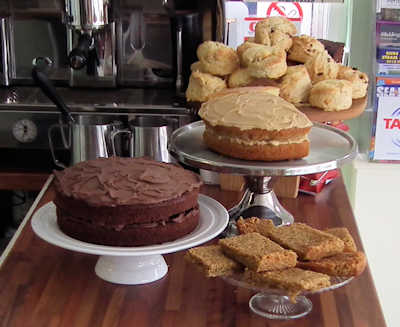 At A Piece of Cake we offer homemade buffets made from local produce. We can simply supply and deliver to your venue or if preferred we can offer a full service of supply, deliver, set-up, serve and clear away. The choice is yours.

Our buffets offer up to 7 sandwich fillings, sausage rolls, cheese straws, scones, quiches, ham and cheese swirls, salmon, dill and cream cheese swirls and a range of cakes. We do not have rigid set menus or a fixed cost per head; you the customer get to decide what you want and how much you wish to spend giving you control and peace of mind.

We know our buffets are fresh as we make them ourselves using local ingredients, including sausage rolls from Hewitt & Grant Butchers just across the road! So whether it be for a Christening, Funeral or Birthday, A Piece of Cake can fulfil your requirements.
Cakes
A Piece Of Cake have a wide range of homemade traditional cakes for customers to purchase and take away either as part of a buffet or for a special treat.

These 10 inch cakes are made to order by us ensuring their freshness.

Please call 01603 736090 to order buffets or cakes and discuss your exact requirements so that we can ensure you get exactly what you require.